I almost get stuck in every damn situation, and it always makes me think WHY the hell was I ever named Prerna? Why not "unfortunate-kid-who-never-gets-things-right"? ( I know too big for a name, but then, this describes me "very" clearly.) YEs.
"Fate" is something which is never in good terms with me. It is something which is ready with the three words "Bring it on", and I get cringed and say "Dude, come on, you can choose at least ONE TIME to support me!!!!"
I have three critical situations in which Fate abstains from me to do some good. 1. Experimenting with Food.
Because I know I am not good at experimenting, I CANNOT do things which are at par with bizarre.
So lets just get away with this sticky situation. I suddenly saw that my cutie pie Vicky Ratnani has gone Veg. Thank God! There are some shows which cool WONLY veg food (WONLY- Only*). But then this guy, is really a disgrace towards vegetarianism.
you betrayed me.,:(
One the first show I guess, he cooked the traditional rice of Italy- RIsotto. He described it as the most tastiest rice ever. And being a south Indian by name and mind, my eyes popped out and my ears vibrated "Rice" "Rice" "Rice". I thought to go to the nearby "Sasta-tikaoo" restaurant and try it. I dont know since when I started expermenting with food, maybe the effect of Masterchef India, thanks to Akshay Kumar's aura that instills all those lovey dovey feelings inside me! I went to "50 Bucks", in Radhakrishnan Salai, and such an Irony! I had gone there for tasting a total-vegan food, and saw that these people are Muslims running A "100% HALAL Restaurant. Fate, CONFERENCE!~!!!!
I LOUWE YOU
THU!
HAHAHA...THis was fighting with CURD RICE>LOL
So okay, they have no separate kitchen for non veg and veg food. THeeke, I can go with it. I ordered Risotto, I had practiced the pronunciation so that I am not again victimized by Mr.FATE. And I cant believe this, the waiter had this look "Are you sure you want to eat that??" Fearing the look, I said "Veg Roll bhi le aayiega."
THen I waited, and BAm! In 20 minutes, I had two plates of food. And for the first time, I wasnt really exited about it.
But there she was, my mother. She looked at me, with an evil streak, which clearly stated- "Khaa beta, mangaai hai to Kha." ANd then I, with a very scared look, said through my eyes "50 rupay ka to hai. Kya Jaa raha hai."
MOTHERS EVIL LOOK
I took the first bite of the Risotto. "SUCKER."- was the first word that materialised in my brain. I really wanted to slaughter Vicky Ratnani for calling this is an "immensely mouth watering dish." Ya dude, My mouth has water for a good amount of upchuck."
I gulped the first bite down. My mother gave me an evil smirk, and I gave her a smile and I dont know why I said with the sign of "First class" saying- "Ek number."
Then I searched for Pepper, anything very spicy on the table. Then I realised, HALAL restaurants have food which is already very spicy, so Pepper is a matter of rarity. I was choking. I took the veg roll, and thank god it was spicy and the spice got on my head! I crushed the roll and put it in RIsotto. My mother said "He Bhagwan!" I said "Italy me aise hee khate hai.:P" Ya that really saved me. I was joking with a person who is cooking since she was 10. Real Mature, Prerna, real mature.
I gulped down the food as fast as I could, then paid 100 bucks and rushed outside the restaurant. My mother was teasing me all the way. I was sad, and hungry at the same time- bad food never satisfies GOOD hunger, does it? I was smothered with bad taste and my tongue was cursing me.
After I reached home, with a sad face I changed and sat down to do some homework. I chose Statistics, because that is one thing which can keep me engaged. And suddenly, a plate with "CURD RICE and Mango Pickle popped up." "DUDE I Must be dreaming. I think its all because of the sadma( attack) i got through Risotto." I rubbed my eyes but then there it was, drops of curd inviting me. And there was my mother, who said "Kha le."
Mothers- arent they the sweetest things on earth?
P.S: RISOTTO lovers, i dont give a damn to you. I hate it. I plain hate it. Come to India, you bland food eaters. You would know what FOOD IS.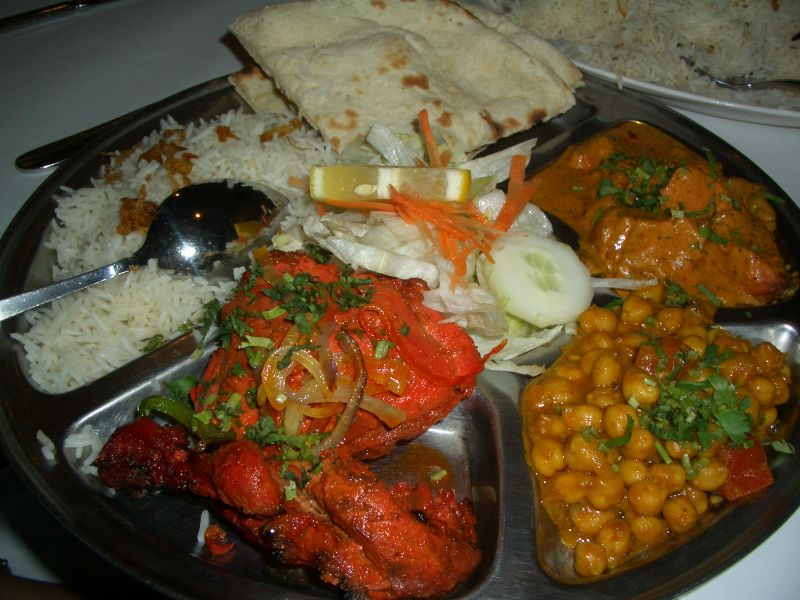 THIS IS FOOD.OK?